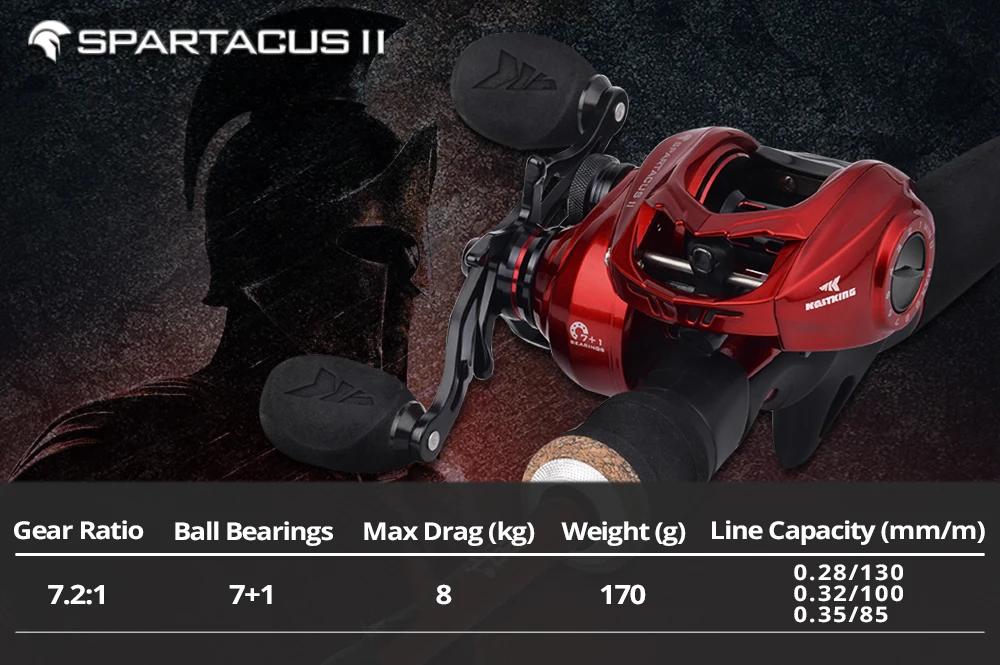 Product Features:
NEW DESIGN – The totally new design Spartacus II baitcasting reel is a warrior! Spartacus II bait casting reels have the dynamic features, an extremely sleek lower profile of only 39 mm, about 10% lower than Spartacus I, and a weight of only 170g for your battle in pursuit of your personal best.
TECHNOLOGY – You will love the exceptional design of the powerful 5 button magnetic brakes (it is so efficient this baitcaster only needs one brake system instead of dual brakes) and the technologically advanced "Double Tapered Control Chute" Line Guide that reduces line friction for ultimate line control and birds nest reduction. Plus, tournament ready 4-disc carbon fiber drag with 8kg of trophy fish stopping power, make the Spartacus II baitcast reel a strong contender.
SMOOTH – A Spartacus II bait casting reel has: superior shielded 7 + 1 corrosion resistant ball bearings, CNC anodized aluminum spool with power launch and aluminum handle for smooth casting, powerful precision machined hardened aluminum main gears, and logo embossed hi-grade EVA handle knobs. With an aluminum main gear, the reel is only 170g. That is unheard of for a reel under $50!
NO MERCY – A Spartacus II baitcaster fishing reel with its versatile 7.2:1 gear ratio create an exceptional super low profile bait casting weapon in your fishing tackle collection that will save you money and bring you years of fishing pleasure.
AFFORDABLE INNOVATION – Go beyond the limits with the new Spartacus II baitcasting reel that is smoother, smaller, lighter, and more powerful than any other bait casters in its price range.
3.Magnetic Braking System Dial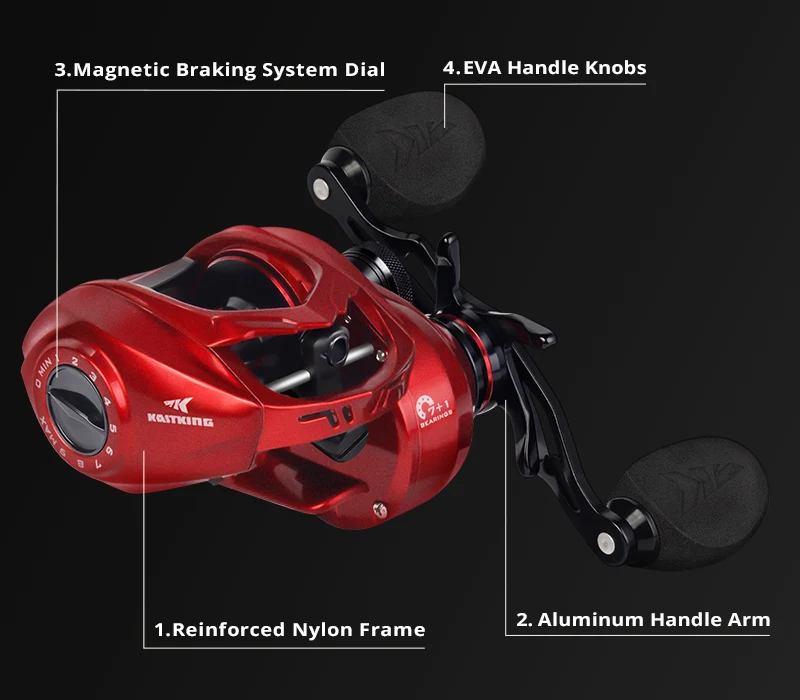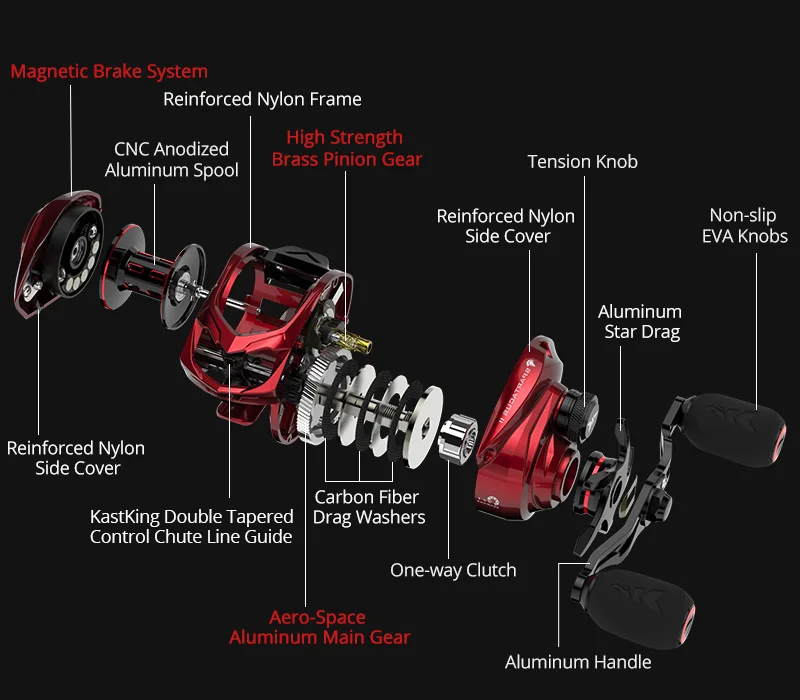 Fire Engine Red-Flash Silver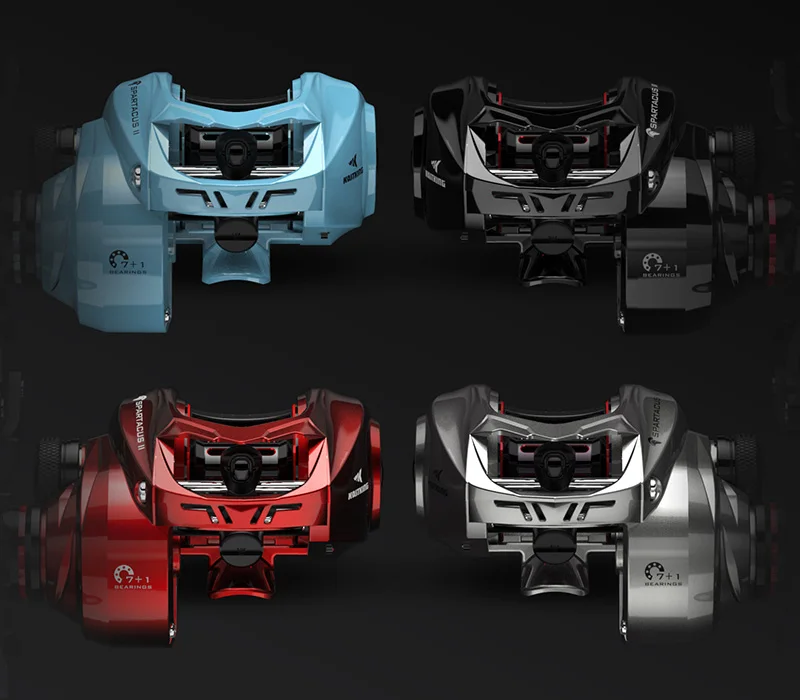 DTCC (Double Tapered Control Chute) Line Guide
Reduces line friction for ultimate line control and birds nest reduction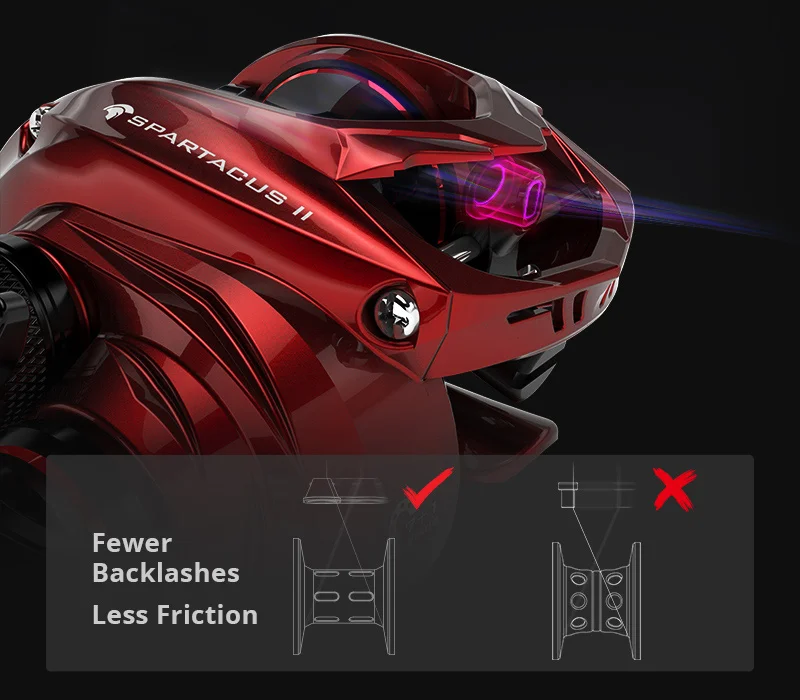 Double Bearing Supported Pinion Gear
35% increase in smoothness under load
30% increase in durability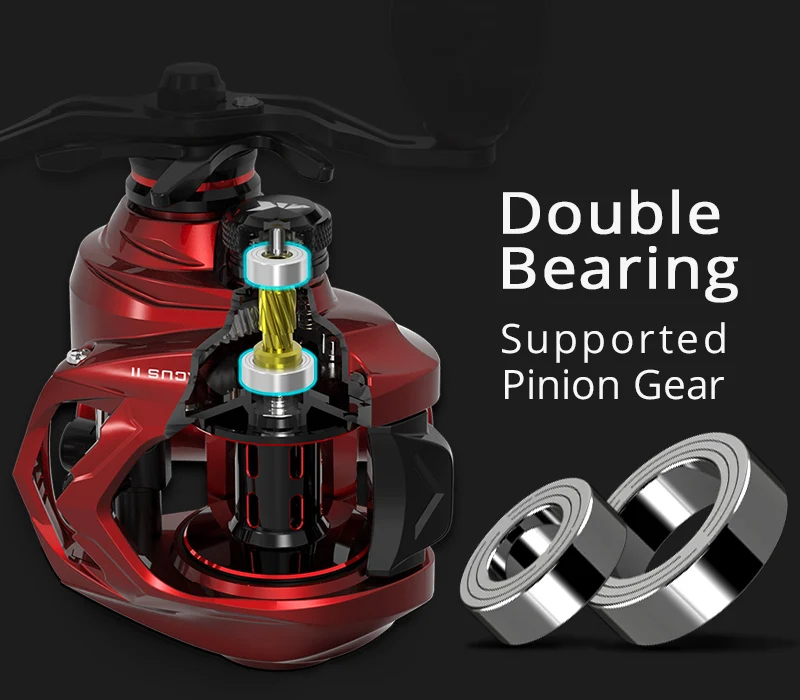 5 Button Magnetic Brake System with 9 Levels of Adjustment for Eliminating
Backlashes Efficiently
P0 Ideal for downwind and pro angler
P1-4 Ideal for long casting and heavy lures
P5-6 Perfect for a wide variety of lures
P7-9 Perfect for green hands. Ideal for strong wind and dead wind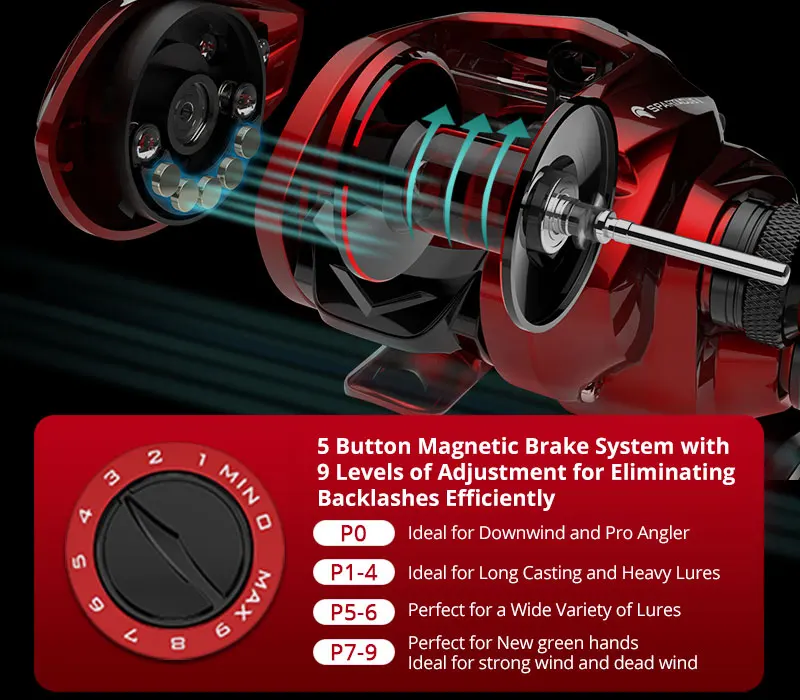 Aero-Space Aluminum Main Gear and Pinion Gear
Provide smooth operation and a long reel life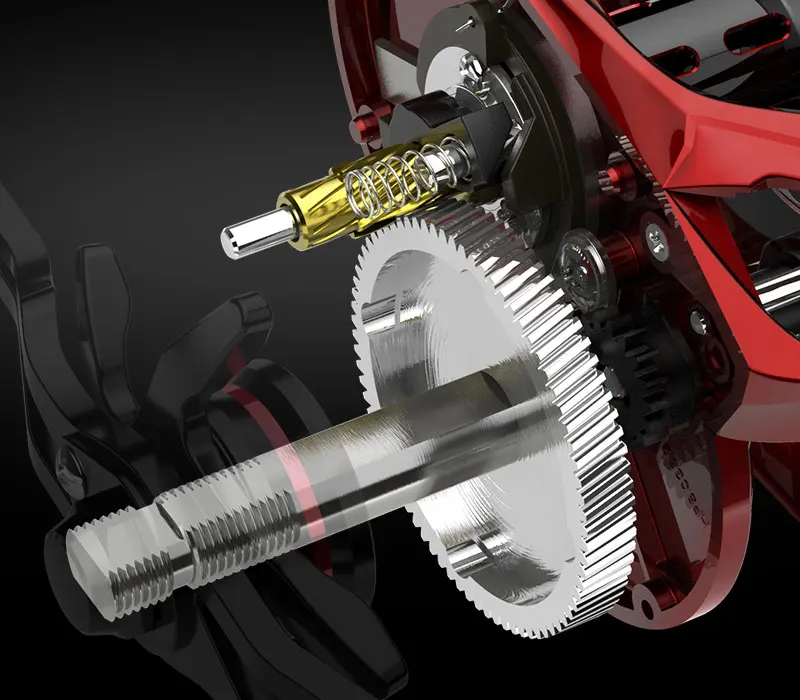 Multi-disk carbon fiber drag washers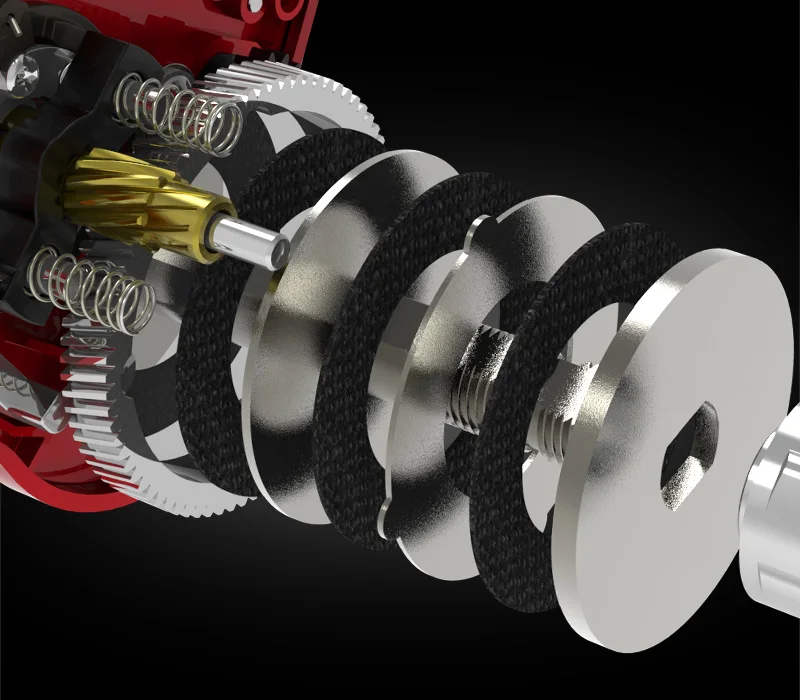 7+1 Maxidur Double Shielded Stainless Steel Ball Bearings
Ensures the smoothest operation and endurance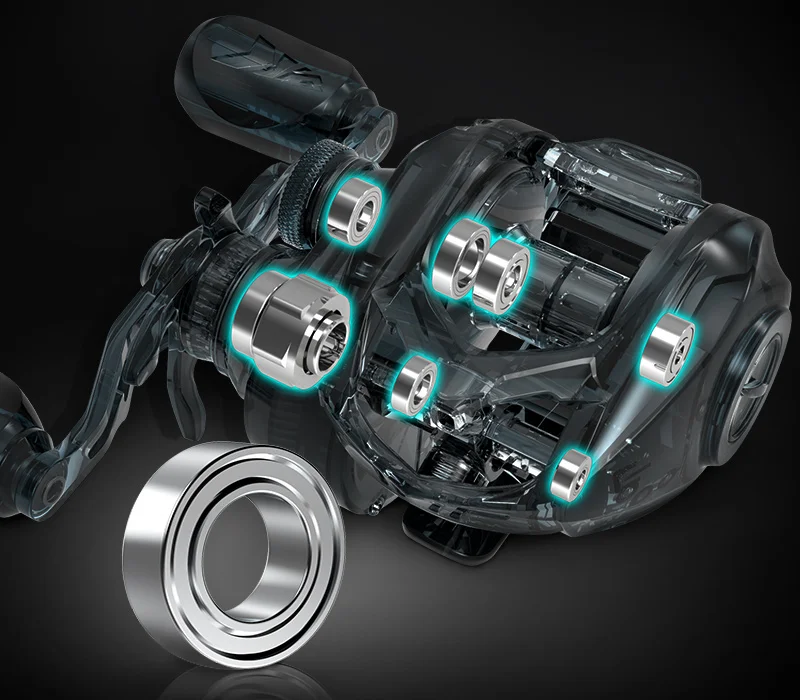 CNC Anodized Aluminum U-shaped Spool
Lighweight machined aluminum spool reduces weight and increases casting distance
Extreme Palm Perfect Design
Control, Comfort & Convenience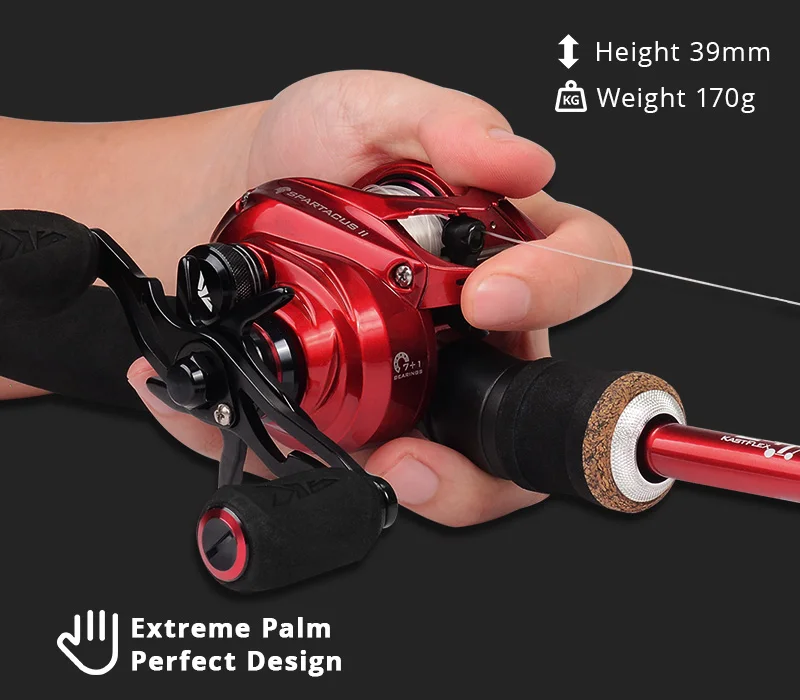 Bring Spartacus II to the fishing battle, every detail is inspired by the warrior spirit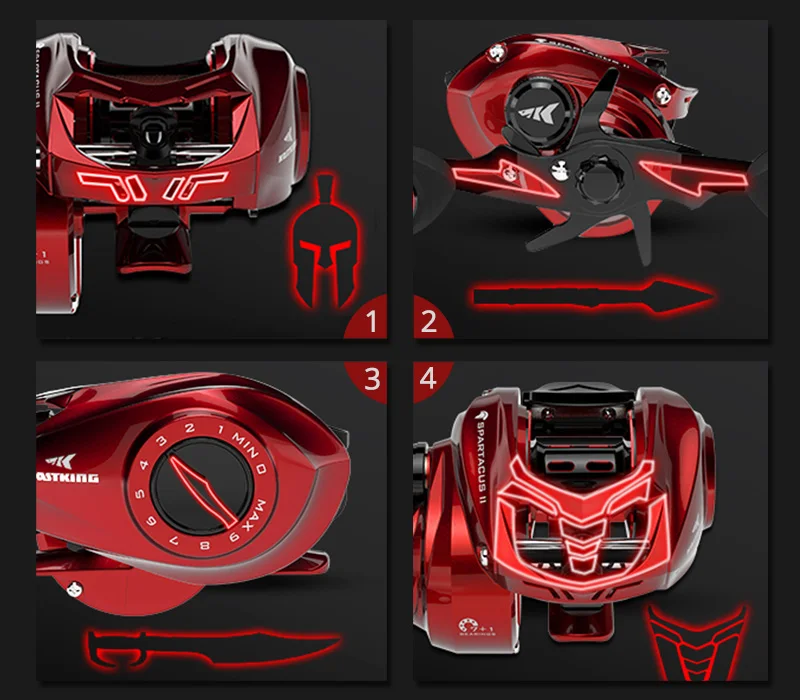 1.CNC Anodized Aluminum Spool
2.Dual Spring Design for Thumb Bar
3.Spool Tension Control Adjustment
4.Aluminum Handle and Comfortable EVA Knobs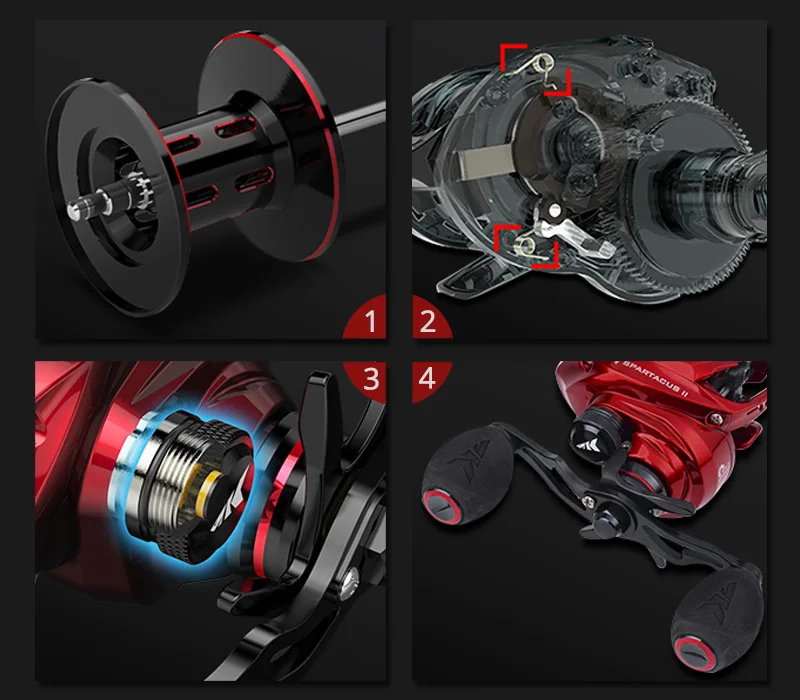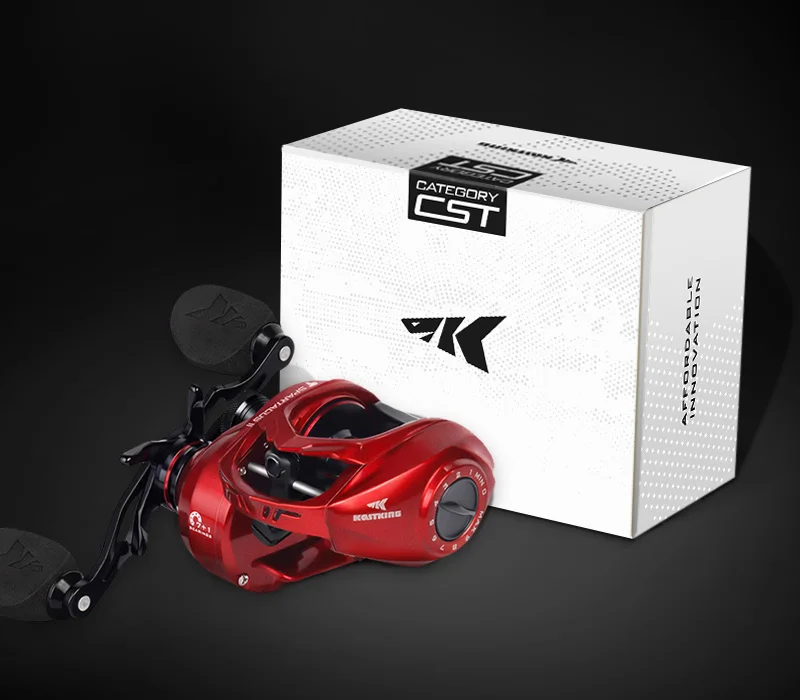 *Combo shown for display only; rods are sold separately