Handle:1000/2000/300 is Flat metal knob, 4000/5000 is Round metal knob. Jaguar 500 include 2 shallow spool, Other series include 1 deep spool +1 shallow spool.
Feature:
1.Rigid alumunm body,body cover and rotor.
2.9+1 stainless steel ball bearings.
3.Screw-in handle system+CNC machined aluminum handle knob.
4. Double anodized machinedaluminum spool.
5.Special gear drive mechanism for ultra-light handle rotation and super-smooth feeling.
6.Strong and blanced thick aluminum bail.
PRODUCT DETAILS
JAGUAR500 | Weight: 166g | Gear Ratio: 5.2:1 | Bearing: 9+1BB | Max Drag: 4KG | Line Capacity(mm-M): Shallow 0.100/130 0.128/80
JAGUAR1000 | Weight: 185g | Gear Ratio: 5.2:1 | Bearing: 9+1BB | Max Drag: 4KG | Line Capacity(mm-M):Deep 0.15/130 , 0.165/100 Shallow 0.105/130 , 0.128/70
JAGUAR2000 | Weight: 249g | Gear Ratio: 5.2:1 | Bearing: 9+1BB | Max Drag: 6KG | Line Capacity(mm-M):Deep 0.205/240 , 0.26/160 Shallow 0.165/120 , 0.185/100
JAGUAR3000 | Weight: 255g | Gear Ratio: 5.2:1 | Bearing: 9+1BB | Max Drag: 6KG | Line Capacity(mm-M):Deep 0.235/240,0.26/200 Shallow 0.185/150,0.205/120
JAGUAR4000 | Weight: 315g | Gear Ratio: 5.2:1 | Bearing: 9+1BB | Max Drag: 7KG | Line Capacity(mm-M):Deep 0.26/290,0.3/230 Shallow 0.205/150,0.26/120
JAGUAR5000 | Weight: 332g | Gear Ratio: 5.2:1 | Bearing: 9+1BB | Max Drag: 7KG | Line Capacity(mm-M):Deep 0.32/240,0.38/160 Shallow 0.26/200,0.28/170
Package:
1pcs*Jaguar reel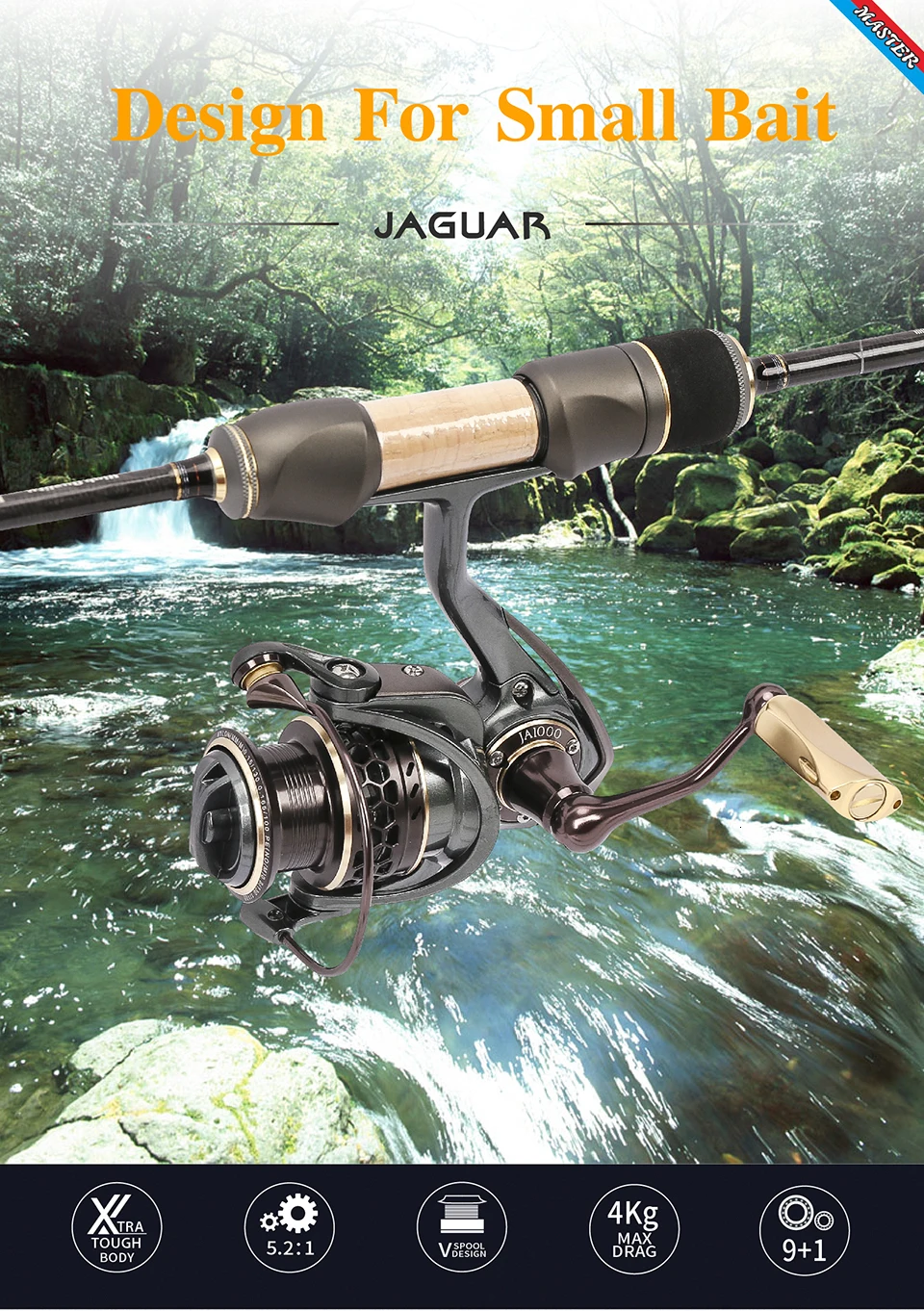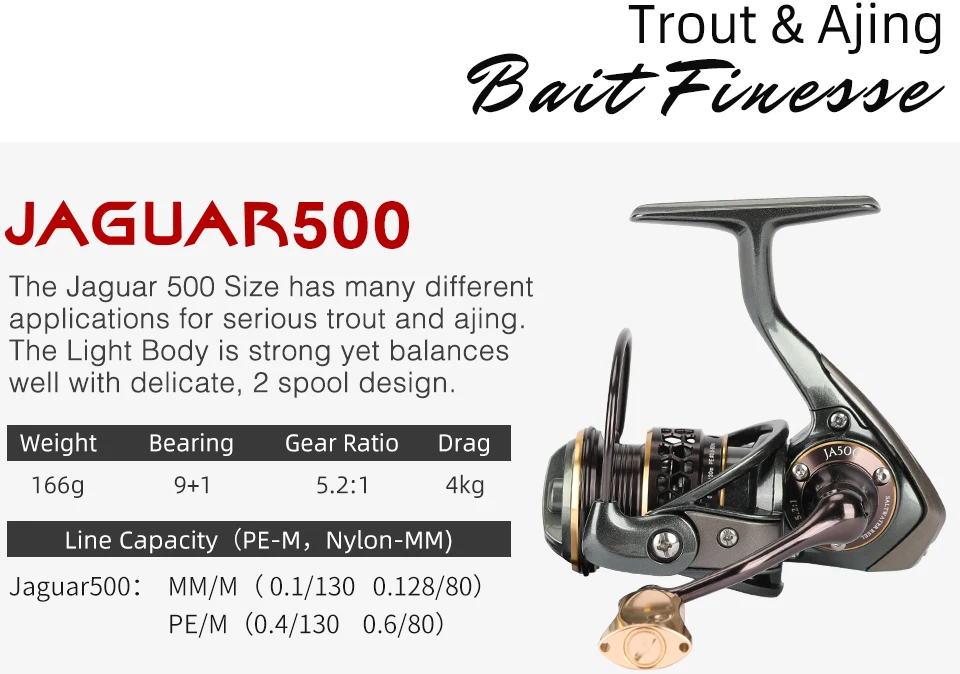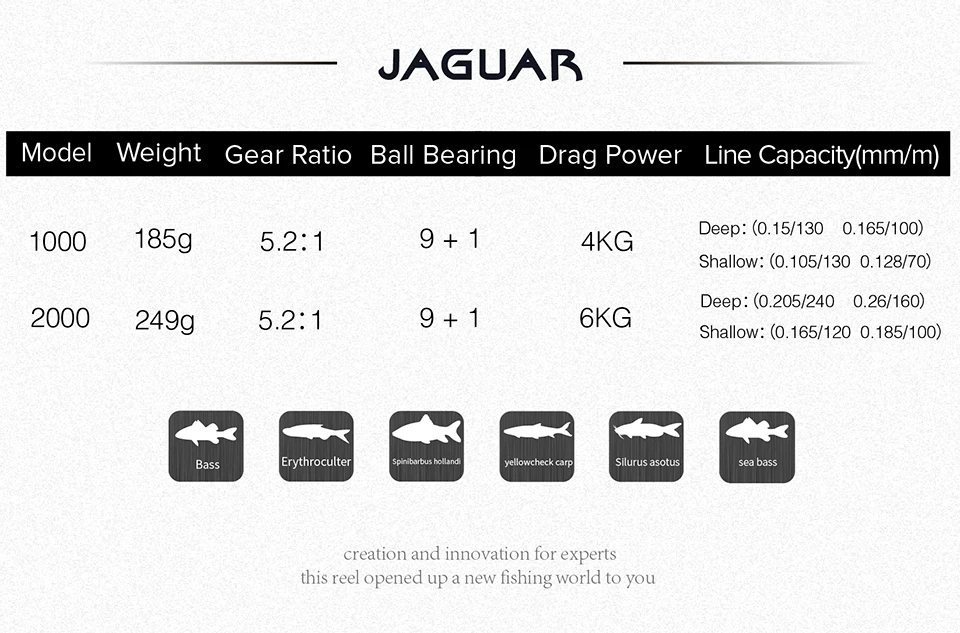 Jaguar 1000/2000/300 is Flat metal knob
Jaguar 4000/5000 is Round Metal Knob